Guide to enabling extended storage in your MASV Team
MASV's Extended Storage is a feature that allows you to set the delete date of a file stored in MASV to any amount of time you desire.
That means, for projects that last longer than 7 days (the current default storage period for MASV), you can make sure your data is still there when you need it. Here is how to set it up:
Switch the feature on by going into Settings > Team. Please note that this settings option is available only to Team Owners.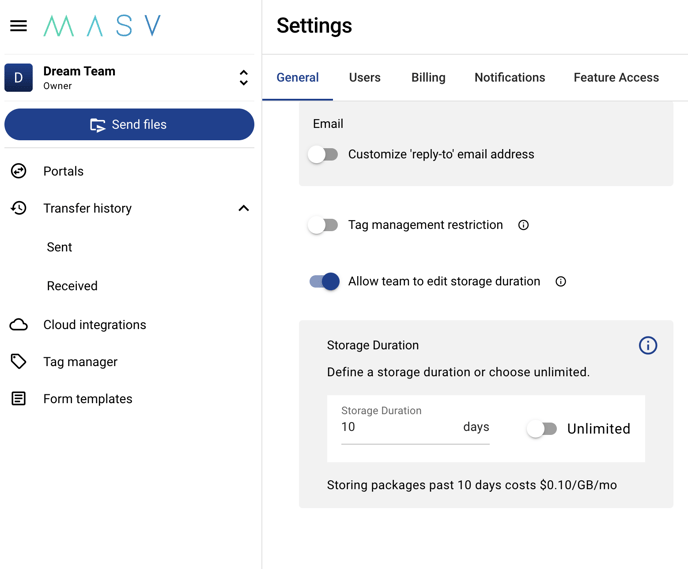 Once the feature is turned on, you can set the default number of days that you would like your file to stay in storage. You can always come back and change it later but it only applies to packages sent after the default is set. Make sure that you click the Save button at the bottom of the page.
This will enable the feature on Send Files, Receive Files, and Packages sections.
Send Files Section
You can override the default delete after option from the Options menu on a per package basis.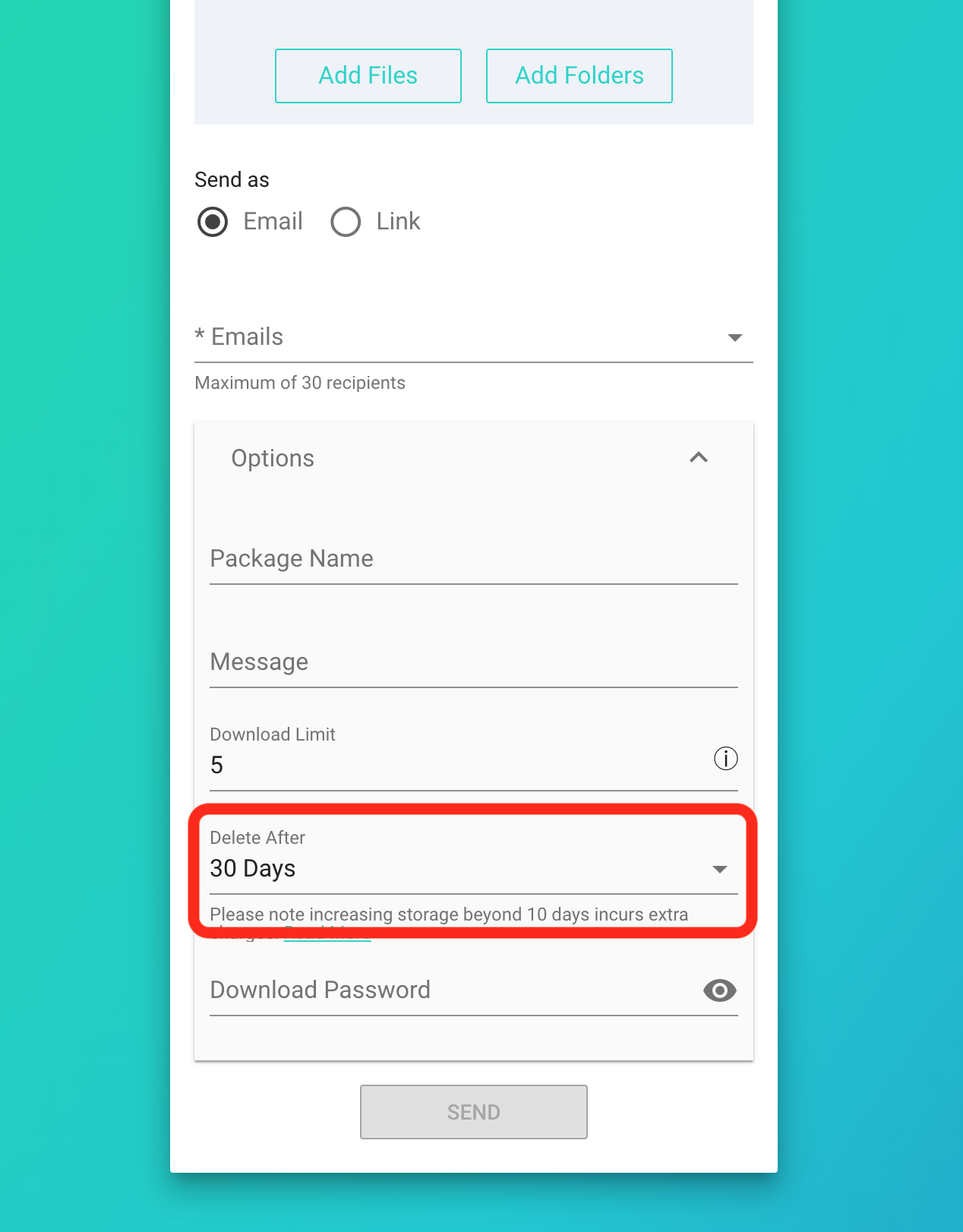 Portals Section
All your existing Portals will have this feature enabled by default once the team setting is activated. You can change it by clicking the edit Portals button (pencil icon) on the right hand side of the Portal. In the next menu, you can use the drop-down menu to override the default delete after setting.

Packages Section
You can edit the delete date of your existing packages (Transfer History> Sent or Receive) at any time by clicking the calendar icon and then choosing a new date:

Please note that the first 7 days (after the package is uploaded) of storage is completely free of cost. Beyond the first 7 days you will be charged an incremental $0.10 per gigabyte per month stored and will be billed at the end of every billing cycle.
To give you an estimate of the cost here is what it breaks out into at different storage amounts and duration:
1 gigabyte of data stored for 30 days will cost you $0.08

10 gigabytes of data stored for 30 days will cost you $0.77

100 gigabytes of data stored for 30 days will cost you $7.67

1000 gigabytes of data stored for 30 days will cost you $76.67

100 gigabytes of data stored for 60 days will cost you $17.67
Math = ((GB data stored*$0.10)/30)*(days stored-7 days)